Nature Area
Something truly special is being created here on the church campus. We are transforming an overgrown, abandoned roadway corridor into a unique nature and education space for adults and children.
At the center of the Nature Area is a new outdoor classroom for the preschool students of North Star Learning Center (NSLC), a ministry of Canyon Creek Presbyterian. Learn more about the NSLC.
On each end of the Outdoor Classroom, we plan to create a park-like setting with walking trails, seating areas, prayer and commemoration spaces, and other special features.
Master Vision
The Nature Area master vision plan shows what the space could become:
Park with trails, benches, and arbors • Prayer walk • Stations of the cross
Prayer and meditation space • Labyrinth • Memorial garden
Sitting areas • Shaded meeting places • Native plants and trees
Bird, butterfly, hummingbird, and bee haven • Sculptures • More …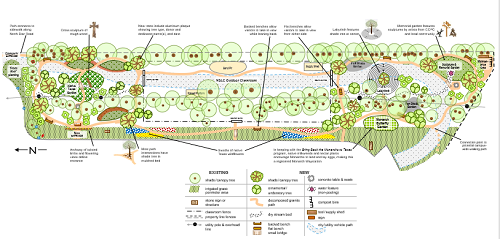 Click on the plan for a full-size view.
How You Can Help
This grass-roots project needs volunteers' time and ideas as well as donations. Church members, Scout troops, friends of the church, and community members are invited to help with the range of planning, installation, and upkeep tasks that will be needed to make the Nature Area a reality.
For more information and to learn how to contribute to this unique project, contact the project leader at CCPC.Nature.Area@gmail.com.