Our T-Shirts Are Awesome!
Don't forget to order yours when you register! Shirt orders must be placed by June 2nd!
Feel connected to your fellow VBSers on Zoom and have a super comfy keepsake from our first ever virtual VBS! Our t-shirts are the soft and comfortable Bella-Canvas brand. They also have a unique custom design just for our VBS! They are available in child and adult sizes, so be sure to order them for the whole family. Shirts are $12 each.
Join us for Knights of North Castle
VIRTUAL! VBS 2020
June 15-19, 5:00 pm on Zoom
With lots of other content to access at your own pace
Registration $10 | Scholarships available
If you need help paying registration, please select Request Scholarship when you register.
T-shirts $12 (optional)
Shipping $7.75 (optional)
Materials bags can be shipped anywhere in the U.S.! Be sure to invite friends and family to join you at VBS!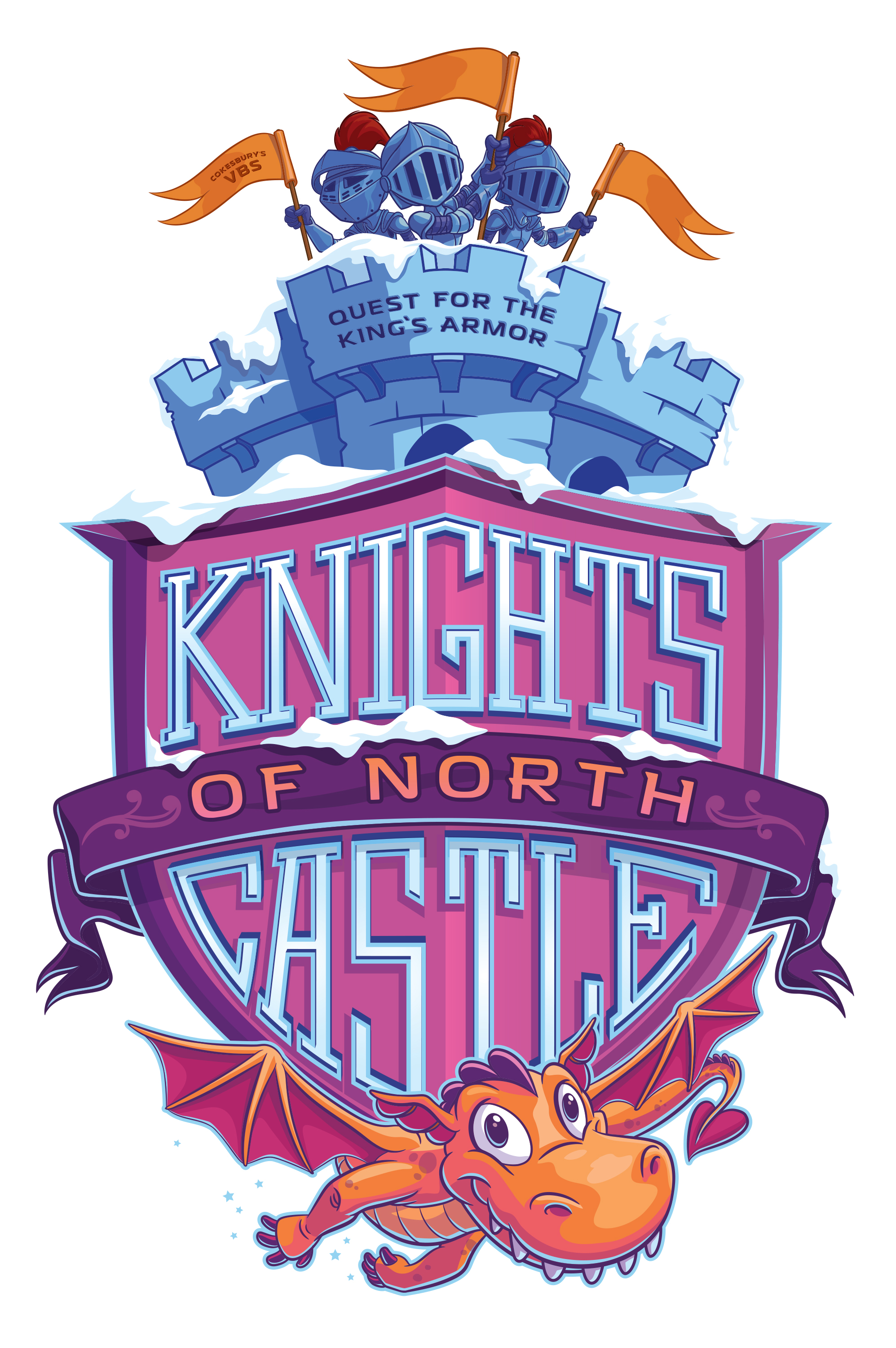 Knights of North Castle: Quest for the King's Armor
This year's VBS theme invites children to be strong in the Lord and in the strength of God's power! Each night we will become brave knights in North Castle, which is hidden in a frozen land. We will explore Bible stories as we discover different pieces of armor- the Belt of Truth, The Breastplate of Justice, the Shoes of Peace, the Shield of Faith, and the Helmet of Salvation!
Five Days of Fun and Adventure- Virtually!
Each evening of Virtual VBS will begin at 5:00 on Zoom with music videos, adventure videos, and plenty of silliness. Kids will then go into breakout rooms with other children their age and an adult group leader. There they will talk about the day's theme, play games, and socialize before coming back to the large group. We will finish up with more music, videos, and fun! Videos played during the Zoom calls will also be available to watch anytime for those who cannot join live. In addition to Zoom, activity videos including things like Bible stories, craft demonstrations, science experiments, skits, family game ideas, etc. will be uploaded daily and can be accessed at your convenience. Extension activity ideas that can be done as a family, get you outdoors, and create connection with other VBS families will also be sent out. Use whatever works for you in whatever time frame suits your family! There will also be opportunities to participate in a special mission project benefitting senior living facilities through The Senior Source.
Virtual VBS Materials Bags
On Sunday, June 14, we will have a drive-through pick-up at the church to get your very own bag of special VBS materials! The bags will include materials to be used with posted activities throughout the week, helpful information, and an item or two just for making VBS week special. (Bags will be packed at least a week before under the cleanest conditions possible, and not touched again until pick-up day when they will be handled with limited contact.) VBS shirts will also be available during this pickup time.