OBITUARY COLUMN
Our prayers surround the families of our loved ones now fully with our Lord.
Jesus said: Peace I leave with you; my peace I give to you. I do not give to you as the world gives. (John 14:27 NRSV)
May this unspeakable peace of Christ hold you and keep you.
Canyon Creek Presbyterian Church
3901 North Star Road
Richardson, Texas 75082
(972) 238-8103
This list is in order of the memorial service date, beginning with the most recent. You may press "view previous"/"view next" at the bottom of the list to scroll.
Thursday, September 22, 2022
5:31 PM
Thursday, September 22, 2022
5:31 PM
Thursday, September 22, 2022
5:31 PM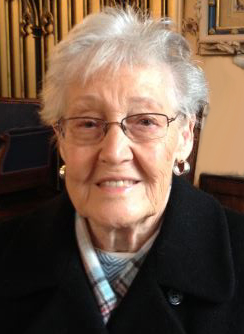 Dorotha Lorene Black Lotridge, age 94 years, was promoted to be with her Lord and Savior, Jesus Christ, on Thursday, July 28, 2022. She was surrounded by her loving family in her last days. Lorene was a longtime resident of Richardson, TX until moving to Tulsa, OK in 2017 to live with her daughter, Joanna. Lorene and her husband, Bob Lotridge, Sr., were active members of Canyon Creek Presbyterian Church during their 51 years in Richardson.
Lorene had a significant impact on the lives of her family. Her special bond with her granddaughters was unequaled. As she was fond of saying regarding her granddaughters, she was low in quantity but high in quality.
Lorene was preceded in death by her husband of 65 years, Robert D. Lotridge, Sr., her daughter-in-law, Randall Gwenyth Jones Lotridge (wife of Robert Jr.), and Major Steven C. Beaulieu (husband of Jessica).
Lorene is survived by her sons Robert D. Lotridge, Jr. of The Woodlands, TX and Stanley W. Lotridge of Frisco, TX, and her daughter, Joanna Lotridge Pickard (Tom) of Tulsa, OK. In addition, Lorene is survived by her granddaughters Lt. Col. Jessica A. Lotridge of Colorado Springs, CO and Chandler W. Lotridge Bundren (John) of Fort Worth, TX.
Lorene was the youngest child of 12 born to Henry Warren Black and Joanna Belle Graves Black in the Redbird Community of Montgomery County, AR on March 15, 1928. Her great grandparents homesteaded on the South Fork of the Ouachita River circa 1870.
After the US Forest Service purchased much of the Redbird Community's land, the family relocated to Norman, AR on the Caddo River, buying a farm on Huddleston Creek. Soon after the move to Norman, Lorene's father died when she was three. Her mother, Belle, was assisted in raising her by her 8 surviving older brothers and sisters who remained remarkably close their entire lives. Her numerous nieces and nephews were like her little brothers and sisters and have always been a significant part of her life.
Graduating from Norman High School in 1945 as Valedictorian, Lorene received her degree from Arkansas College (now Lyons College) in Batesville, AR. She was influenced personally and the beneficiary of the work of Rev. John T. Barr of whom Barr Memorial Presbyterian Church in Norman is named. Dr. Barr was a pioneer in providing educational opportunities in the Quachita Mountains prior to the establishment of public schools.
She was the first of her family to earn a college degree. Several nieces and nephews followed her path to Arkansas College. Her older brother, Gene, was in college at Arkansas A&M when WWII began, but left school for pilot training where he died in a training accident. She met her husband, Bob, in college and they married in 1950. Bob was part of the wave of WWII veterans filling the colleges and universities after the war. After graduation, Lorene taught business studies at Cushman High School near Batesville as Bob finished his college requirements. Later, they both taught at Hickory Ridge, AR for two years where their son Robert Jr. was born, and then Vanduser, MO.
When Bob made a career change and went to work for DuPont in Louisville, KY, the family moved to New Albany, IN and then Sellersburg, IN. Lorene used her business teaching degree working as a bookkeeper for a Louisville firm as their family grew from one boy to another, with the birth Stanley. Bob became involved with Boys Clubs of America in Louisville while working for DuPont. This led to him being offered the opportunity to open a new Boys Club in Magnolia, AR.
With the move to Magnolia, Lorene and Bob added a girl, Joanna, to complete their family of five. Lorene was very active in the Garden Club, Boys Club Auxiliary, Newcomers Club, and the First Presbyterian Church. She supported Bob in his position as Director of the Boys Club and nurturing their three growing children. She kept her skills through substitute teaching and bookkeeping positions. True to her roots, Lorene was always, canning berries, fruit, and beans. She was an excellent and creative cook. Her children all learned how to pick blackberries, strawberries, muscadine grapes, plums, and how to snap beans and shell peas. They also learned that she always had their backs, regardless of the circumstance. Lorene never wavered when it came to supporting her children.
Bob was offered the Directorship of the El Paso, TX Boys Clubs and accepted the challenge. One year later, he was offered a management position with Boys Clubs of America which led the family to move to Dallas, and later to Richardson, TX, in 1966.
Beginning in Dallas, Lorene worked as a bookkeeper for the Shakey's Pizza franchise, which was very popular with her children and their friends! She later joined General American Oil Company for many years before retiring as a bookkeeper for SVI Property Management.
Their home at 501 Dover was known for Lorene's beautiful flowers that graced the corner lot. A gifted gardener, she, and Bob enjoyed the compliments of the neighbors and those passing by.
Lorene's duties as a dance, football, track, swimming, baseball, Cub Scout and Blue Bird mom, primary proofreader of school papers, and official cheerleader of her children's activities kept her on the go. She remained active in Canyon Creek Presbyterian Church serving in several leadership positions.
Lorene was an avid reader, enjoyed bridge, and her women's bible class. She loved to travel whether it was a grand adventure or exploring locally with her family and siblings. The time spent with family at her beloved cabin along the Caddo River in Arkansas created many special memories. Season tickets to the Dallas Summer Musicals, museums, historical sites, and gardens large and small were a great pleasure to her. After Bob had a bout with cancer, Lorene volunteered one year to Co-Chair the American Cancer Society fundraiser for Richardson.
Lorene lived the life of the greatest generation, losing a brother in the war and being a part of the tranformation from rural America to the urban America we know today. Her faithfulness to Jesus Christ and her steadfast love for her family, grandchildren, brothers and sisters, and nieces and nephews is her legacy.
A memorial service will be held in Norman, AR on October 8, 2022 at Barr Memorial Presbyterian Church. Lorene will be laid to rest a few miles from where she was born, along the South Fork of the Ouachita River. She will join five generations of loved ones at Gaston Cemetery. In lieu of flowers, donations for Barr Memorial Presbyterian Church, P.O. Box 7, Norman, AR 71960 and/or the Gaston Cemetery Association, P.O. Box 942, Mt Ida, AR 71957 would be greatly appreciated.
Published on Thursday, September 22, 2022 @ 5:31 PM CDT