NATURE AREA & PRAYER GARDENS
Something truly special is being created here on the church campus. We are transforming an abandoned roadway corridor into a unique nature, prayer and education space for adults and children.
At the center of the Nature Area & Prayer Gardens is a large outdoor classroom for the preschool students of North Star Learning Center (NSLC), a ministry of Canyon Creek. Learn more about the NSLC.
On each end of the classroom, we are working to create a park-like setting with walking trails, prayer and meditation spaces, rest and contemplation areas with seating, and other special features.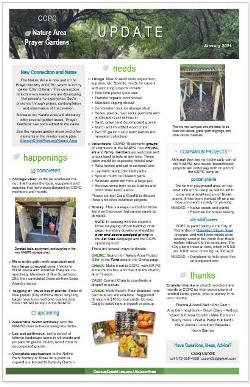 Master Vision Plan
The Nature Area & Prayer Gardens master vision plan shows what the space could become over time:
Park atmosphere with trails, benches, and arbors • Prayer walk • Stations of the cross
Prayer and meditation spaces • Labyrinth • Memorial garden
Sitting areas • Shaded meeting places • Native plants and trees
Songbird, butterfly, hummingbird, and bee habitat • Art features • More …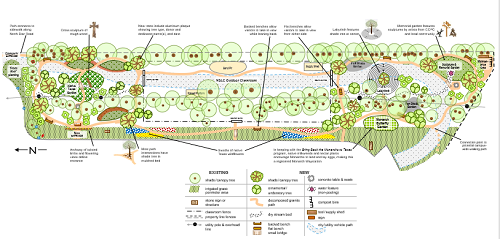 Click on the plan for a full-size view.
One element of the Nature Area & Prayer Gardens is a ±150-sq.ft. butterfly garden located in the grassed area near the south end of the main parking lot.


Made possible by a grant from the
Native Plant Society of Texas
, the garden features native milkweed plants — the only plant on which Monarch butterflies will lay their eggs — and other native pollinator and shelter plants.
If you would like to help develop or maintain the butterfly garden, please contact Craig Conditt.